Leading shutters in Kitchener & Waterloo
Shutters are offered in a number of colours, materials and styles.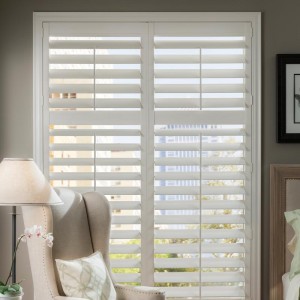 eclipse shutters
On tudor (1485-1547) and elizabethan (1558-1603) homes, shutters we made of solid boards and covered only the lower half of the window as glass was expensive and the entire window was not covered. through history, as window styles and sizes changed and developed so did the purpose and appearance of the shutter. today, the modern day shutter provides both decoration and function.
Eclipse Shutters are made from polyresin 3, a colourfast compound with UV stabilizers which do not warp, shrink, chip, peel or fade. this low maintenance window treatment is a fantastic option for areas with high humidity such as kitchens or bathrooms. exclusive to Eclipse Shutters, two part hinge system allows for easy removal for cleaning. just lift the panel off the hinge and you can hose it down in your bathtub or take them outside with your garden hose. with various options in louver size, frames and colours, Eclipse Shutters are a recognizable investment when looking to update your home.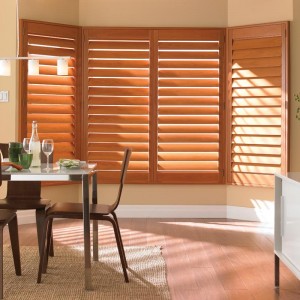 wood shutters
As the fine woods line of hardwood shutters create a defining finishing touch in your décor, they should be thought of as fine furniture and are an investment in your home.
The fine woods shutter is available in nine stock stains and finishes, with custom options available. various options available in three different louver widths and fourteen options in frames. with state of the art equipment and stringent quality control, the construction of all fine woods shutters are incredibly strong and will last a lifetime.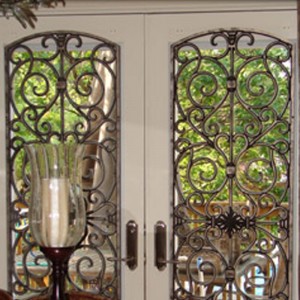 tableaux traceries
The look and design of wrought iron at a fraction of the cost and weight. you can now cover high ceiling windows, art niches, sidelights, in between walls and columns and walls alone. with the custom capabilities with shape and size, sixteen standard colours and over forty designs tableaux traceries are a unique option to create visual interest in your home. .
Promotions
From time to time, Bauhaus by Blinds Are Us offers limited time promotions on some of our quality products.