Discover How to Measure Your Window
Things you need:
steel measuring tape
paper or notepad
pencil or pen
Tips to know before you start:
window blinds are measured in imperial measurements (inches, not cm)
cloth measuring tapes should not be used to measure windows. they sag in the center while measuring and can stretch over time, leaving you with blinds that are too big for the opening.
do not take any deductions off your measurements. we will do this for you. different products require different deductions to get the best fit possible.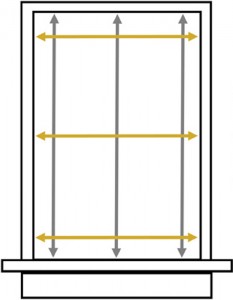 inside mount
Width: Measure the top, middle and bottom of the inside of the window
Length: Then measure the left side, middle and right side of the window
Use the smallest width and the longest length measurement for an inside mount
Measure the depth of the frame, from the window to the front of the casing. Some head rails may protrude out from the window if your depth is shallow.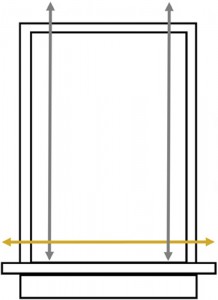 outside mount
Width: The width of the window sill. If there is no window sill, add 2-3 inches past the window in each side
Length: Measure the left side, and the right side of the window, measure to the top of the frame for a frame mount or 2-3 inches above for a wall mount.
Use the longest width and the longest length measurement for an outside mount.
Promotions
From time to time, Bauhaus by Blinds Are Us offers limited time promotions on some of our quality products.