Discover Motorized Blinds in Kitchener & Waterloo
Imagine being able to control your blinds, shades and even drapery from the comfort of your chair with just the touch of a button.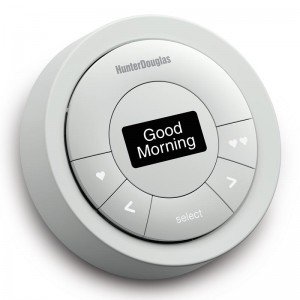 motorized blinds
At Bauhaus by Blinds Are Us, we are committed to making it easy for you to be in total control of the lighting in your home. many of the blinds, shades and even draperies we sell can be installed with a variety of motors and control systems. whether you want to control a hard to get at blind or shade, or simply want the convenience of being able to open and close blinds and shades at the touch of a button, bauhaus has the solution for you.
some of the options from which to choose include:
wire-free motors
Battery operated with batteries that can be purchased anywhere
No wires to install or conceal
Easy to install
Can be operated with a wireless remote
plug-in power motors
Motor plugs into standard electrical outlet
Easy "Plug and Play"
Needs no batteries
Use with wireless hand held or wireless wall mounted remote
hardwired power motors
Motor is wired into the home's electrical system
Wires concealed behind walls
Option of using wireless or wall mounted controls
Ideal for smaller size window coverings, light fabrics or woods
Bauhaus by Blinds Are Us is proud to be recognized as one of the select Certified Hunter Douglas Motorization Specialists in the kitchener waterloo area. our automation solutions work with every Hunter Douglas motorized application and integrate with home automation systems.



Promotions
From time to time, Bauhaus by Blinds Are Us offers limited time promotions on some of our quality products.